The Five Lives of Hilma af Klint (Hardcover)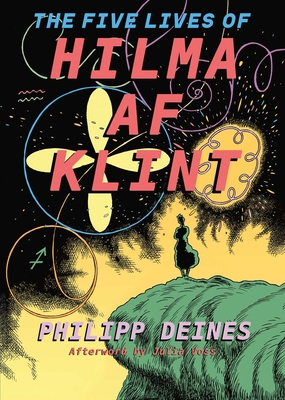 $35.00

Usually Ships in 1-5 Days
Description
---
A moving biography, told in vivid illustrations, this graphic novel features key moments in the life of Swedish artist and pioneer of abstract painting Hilma af Klint (1862–1944). Long underrecognized, af Klint has been amid a sensational rediscovery that continues to take art audiences by storm.

Artist Philipp Deines traces the story of now world-famous af Klint's unique life and groundbreaking oeuvre through five chapters featuring her development as an artist, her family background, and her relationship to the spiritual. Highlighting how she came to her distinctive paintings, her spiritual quest, and the friends who helped her, this is a story of the strength it took af Klint to continue as an artist against all odds.

Beautifully drawn, brightly colored, and well researched, this graphic novel is a new way of looking at the story of an artist. Referencing Julia Voss's new biography of af Klint, Deines presents an accessible and lively introduction for many ages. Biography, art history, and contemporary narrative style merge and complement each other in this magnificent visual world.
About the Author
---
Philipp Deines is an artist, illustrator, and graphic designer. In 2015, he published Behind the White Cube (Merve Verlag) with Julia Voss. In 2020, he received the Berlin Comic Scholarship and his work was exhibited in the Museum for Communication Berlin. In 2021, his work was exhibited at Grisebach in Berlin in the exhibition Stu-stu-stu-studioline. The Five Lives of Hilma af Klint (2022) is his first graphic novel. He lives and works in Berlin.

Hilma af Klint (1862–1944) is now regarded as a pioneer of abstract art. Though her paintings were not seen publicly until 1987, her work from the early 20th century predates the first purely abstract paintings by Kandinsky, Mondrian, and Malevich. Af Klint was born in Solna, outside Stockholm, and studied at the Royal Academy of Fine Arts in Stockholm from 1882 to 1888. The Solomon R. Guggenheim Museum's 2018 survey of af Klint's work was the first major solo exhibition in the United States devoted to the artist, offering an unprecedented opportunity to experience af Klint's long-underrecognized artistic achievements.

Julia Voss is a curator, art critic, and professor. Her biography of Hilma af Klint was on the shortlist of the Leipzig Book Fair Prize in 2020 and became a bestseller. She headed the visual arts department of the Frankfurter Allgemeine Zeitung for ten years and has been teaching art history as an honorary professor at Leuphana University in Lüneburg since 2015. She lives in Berlin with her husband Philipp Deines and two children.
Praise For…
---
"...spins a brightly colored five-chapter tale of Af Klint's life"
— The Strategist, New York Magazine

"The book carefully grounds af Klint, who is heralded these days for being a visionary far ahead of her time, in the solid realities of her life."
— The New Yorker

"af Klint was genuinely telegraphing a more sustainable, equitable future for us all: a "new period" of spiritual awareness that we all need now more than ever before."
— Lauren O'Neill-Butler

"Her work remains conceptually open enough for viewers to draw their own conclusions, insert their own meaning and feel transported to other glorious worlds."


— Martha Schwendener

"revelatory and sublime"
— Martha Schwendener

"trailblazing painter"
— Smithsonian Magazine