A Horse at Night: On Writing (Paperback)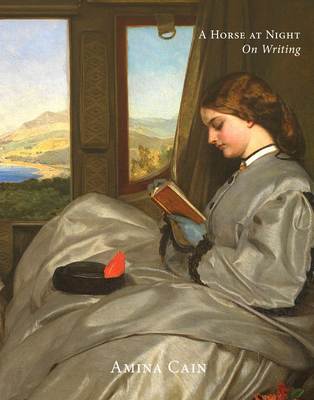 Description
---
"A Horse at Night is like light from a candle in the evening: intimate, pleasurable, full of wonder. It asks us to consider fiction as life and life as fiction. Amina Cain is our generous, gentle guide through an exquisite library. A truly beautiful book." —Ayşegül Savaş

"I adore her work, and sensibility," writes Claire-Louise Bennett of Amina Cain; and Jenny Offill: "Cain writes beautiful precise sentences about what it means to wander through this luminous world." Cain's unique wandering sensibility, her attention to the small and the surprising, finds a profound new expression in her first nonfiction book, a sustained meditation on writers and their work. Driven by primary questions of authenticity and freedom in the shadow of ecological and social collapse, Cain moves associatively through a personal canon of authors— including Marguerite Duras, Elena Ferrante, Renee Gladman, and Virginia Woolf— and topics as timely and various as female friendships, zazen meditation, neighborhood coyotes, landscape painting, book titles, and the politics of excess. A Horse at Night: On Writing is an intimate reckoning with the contemporary moment, and a quietly brilliant contribution to the lineage of Woolf's A Room of One's Own or Gass's On Being Blue, books that are virtuosic arguments for—and beautiful demonstrations of—the essential unity of writing and life.
About the Author
---
Amina Cain is the author of the novel Indelicacy and two collections of short fiction, Creature and I Go to Some Hollow. Her essays and short stories have appeared in n+1, The Paris Review Daily, BOMB, Full Stop, Vice, the Believer Logger, and other places. She lives in Los Angeles.
Praise For…
---
"In A Horse at Night: On Writing, a shifting, elliptical essay on the writing life, Cain admits the crushing heaviness of composition, and the airy fantasies that attend it. She 'grazes' at her writing—a metaphor she shares with Roland Barthes, on his reading—and she dreams (via Italo Calvino) of an impossible lightness. A Horse at Night is in part about this hope, but more ambitiously it's an allusive and engaging account of the raptures you'd miss if complete creative ease were really possible." —Brian Dillon, 4Columns
 
"A Horse at Night is a transmutation of fiction and nonfiction, a form of unfurling, soft and grainy at the edges. Moving through this text feels like resting your eyes on shifting shapes on a walk in the dusk."—Sophie Brown, Astra
 
"A masterful work about writing and reading, that feels like a manifesto and conversation all in one. Intimate, insightful and brilliant." —Sinéad Gleeson
 
"Avoiding all the tropes of those popular how-to books, what Cain has managed to produce is something much more indispensable. As with Berger or Woolf before, A Horse at Night illustrates with painstaking accuracy how it is possible to live within art, as if it might play a role in everything we do or say or love, as if the self might be made up of more than the distinctly visible. More than learning the machinery of plot, what any young writer needs to know is that such a life—with its imperfections and impossible queries—is possible." —Connor Harrison, Chicago Review of Books
 
"A delightful meditation on reading and writing from a writer whose talent is seemingly limitless . . . Cain's prose remains deceptively simple, but contains a latent beauty worthy of stopping even the most avid of readers in their tracks. This is a marvelous new addition to the realm of genre-resistant literary nonfiction." —Meghana Kandlur, Open Books (Chicago)


"Cain offers a spare, graceful meditation on her rich, idiosyncratic reading and her practice of writing." —Kirkus Reviews
 
"Readers will relish following Cain's winding prose and carefully considered conclusions. Fans of her work—and of literary criticism more generally—won't want to miss this." —Publishers Weekly